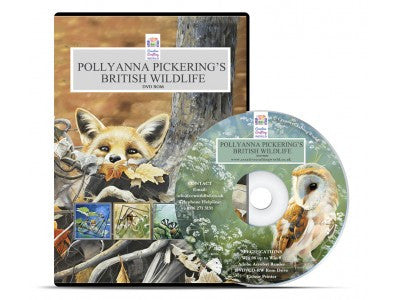 Pollyanna Pickering British Wildlife Papercrafting DVD ROM
Pollyanna Pickering British Wildlife Papercrafting DVD ROM
Pollyanna Pickering is a world renowned artist well known for her beautiful wildlife paintings and we are very priviledged to have been given exclusive access to her artwork foruse by the paper crafter. We have put 40 of her pieces of artwork depicting the best of British Wildlife on one DVD ROM making this the most affordable and easy to use library of papers, toppers, decoupage and so much more we have offered to you before.
Lose yourself amongst the woodlands and riverbanks and enjoy using these absolutely stunning designs in you paper crafting. All images print out at the highest quality to guarantee a professional finish to your cards and projects. The DVD ROM acts in exactly the same way as CD ROM but is able to hold more designs. This DVD ROM is the equivalent of 5 CD ROMs which would each retail at £14.99 but by putting them on to a DVD ROM we can offer this to you at the fantastic price of £19.99 plus P&P.
The DVD ROM has 40 design sets each of which includes 20 backing papers, text editable inserts, coloured toppers, embossed toppers, sepia toppers, monochrome toppers, line art drawings, posy boxes, notelets, tunnel cards/decoupage, teabag tiles & toppers and lots more. All of your favourite animals such as rabbits, squirrels, foxes, badgers, owls, otters, field mice, hedgehogs and others can be found in the 40 pieces of beautiful artwork ready for you to add your creativity.
PC requirements are: Windows XP, Vista, Windows 7, Windows 8. The Menu system is not Mac Compatible. The DVD ROM will auto-run and no installation or internet connection is required.
---
We Also Recommend
---